Two
Rosebuds
in fact - Ivan Howard and Kelly Crisp. J and I caught them in Boston by sheer luck and happenstance. We went to a place called Great Scott in Allston to see an old favorite of mine,
The Ladybug Transistor
. Sadly, we missed most of the show b/c we thought they'd be headlining so we were late. Oh well, we thought, let's get another beer and see who's playing next.
Holy guacamole! The Rosebuds were about to take the stage. J didn't know anything about them, so I proceeded to give him an earful since they'd been a favorite of mine since I'd discovered them on
Pandora radio
. The show was great and it was eeriely uncanny how much Kelly reminded us of our girl, Jen. The blond ponytail, the clothes, the rockabilly vibe, and even the way she raises her hand when she's rockin' out. It was cute and creepy.
So now I'm doubly psyched b/c The Rosebuds are coming to Dallas! Catch them at the Cavern on Tuesday, June 19. You'll see me in the front row, beer in one hand, the other hand raised up as I rock out with Ivan, Kelly, and the rest.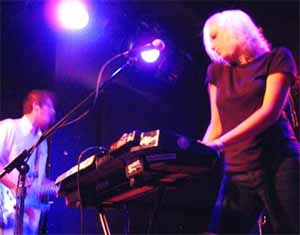 P.S. I am still kicking myself for not buying these one-of-a-kind CDs they were selling at the Boston show. They were full of remixes, and Kelly handmade the sleeves out of paper, stamps and the like. Why didn't I buy one??? Grrr. Let's hope they'll be selling them at the Dallas show.