Last night I watched
Craft in America
and it was really good. I would have liked to have seen more on the current "hip" craft movement in addition to a lot of the "traditional" crafting the documentary showcased, but the history and stories of artists and crafters was so inspiring. All of the artists and craftspeople were interesting and very talented, and all had a common thread running through their stories. A thread that binds those of us who use our hands to create beauty: There is nothing like making something by hand. There is nothing more fulfilling.
I especially liked two craftspeople in particular:
Jan Yager
uses local flora and found urban trash to make her distinct pieces.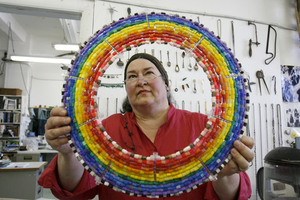 Garry Knox Bennett decided one day to be a furniture maker having no experience in woodworking or making furniture.